R-Man model CNC milling machine
First, we need to know what CNC milling machine is.CNC Milling Machines are machine cutting tools that are programmed and managed by Computer Numerical Control (CNC) systems to accurately remove material from a workpiece.
The end result of the machining process is a specific part or product that is created using a computer aided design (CAD) software.
These tools are typically equipped with a main spindle and three linear axes to hold or move the part to be machined.
More advanced versions may have a fourth or fifth axis of rotation to allow for more accurate shapes of different dimensions and sizes.
CNC milling machines / turning centers usually use a material cutting process called milling or machining. A high-speed tool (or set of interchangeable tools) is then applied to the material to remove small chips of the material until the desired shape for the part is achieved.
Depending on the material used for the part as well as the complexity of the machined part, different axes, spindle speeds and feed rates may be applied.
Milling is typically used to machine parts that are not axially symmetrical. These parts may have curved surfaces, which may require a combination of drilling and tapping, grooves, slots, recesses, pocketing, and holes to work on them.
Advanced Manshoor e simin CNC milling features
In the past, milling machines were operated manually. Operators had to use combination machines with different tools to make a complex part or product. Or they had to use different settings on the same device just to complete the task.With advances in technology, such as CNC controls and automatic tool change (ATC), productivity, flexibility and speed can be achieved even for more complex parts. The introduction of digital ruler and measuring systems has also improved the accuracy of CNC machining processes.
Types of R-Man CNC machines
The simplest classification used for all types of R-Man CNC milling machines is to classify them based on the milling method. In general, these devices can produce parts with an accuracy of 0.005 percent, which are used in many fields. But we have to accept that the physical condition of the work piece determines that we should do horizontal, vertical or angular milling. With these interpretations, we have produced the best devices for you craftsmen:

R-Man5
Movement course of axes:  X1000 Y500 Z500mm
---
Controller:  Siemens  808D
---
Servo motors:  1.8kW
---
Servo spindle:  7.5kW
---
Spindle:  6000 RPM
---
Movement system:  linear and ball screw
---
Morse:  BT40
---
Pneumatic  tool holder, automatic  lubrication
R-Man4
Movement course of axes:  X800 Y500 Z500mm
---
Controller: Siemens  808D
---
Servo motor axles:  1.8Kw
---
Servo spindle:  7.5Kw
---
Spindle:  6000 Rpm
---
Movement system:  linear and ball screw
---
Z-axis servo with  brake and balance weight
---
Morse:  BT40
---
Cover:  Full      Cabin:  Full
---
Pneumatic  tool holder, automatic  lubrication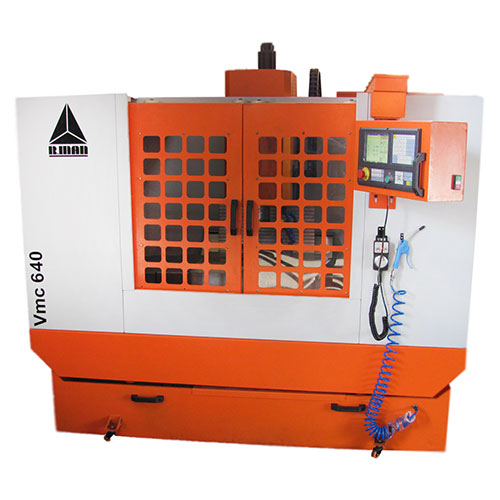 R-Man3
Movement course of axes:  X600 Y400 Z400mm
---
Controller:  Yohai
---
Servo motor axles:  1.8Kw
---
Servo spindle:  5.5Kw
---
Spindle:  6000 Rpm
---
Movement system:  linear and ball screw
---
Morse:  BT40
---
Cover:  Full      Cabin:  Full
---
Pneumatic  tool holder, automatic  lubrication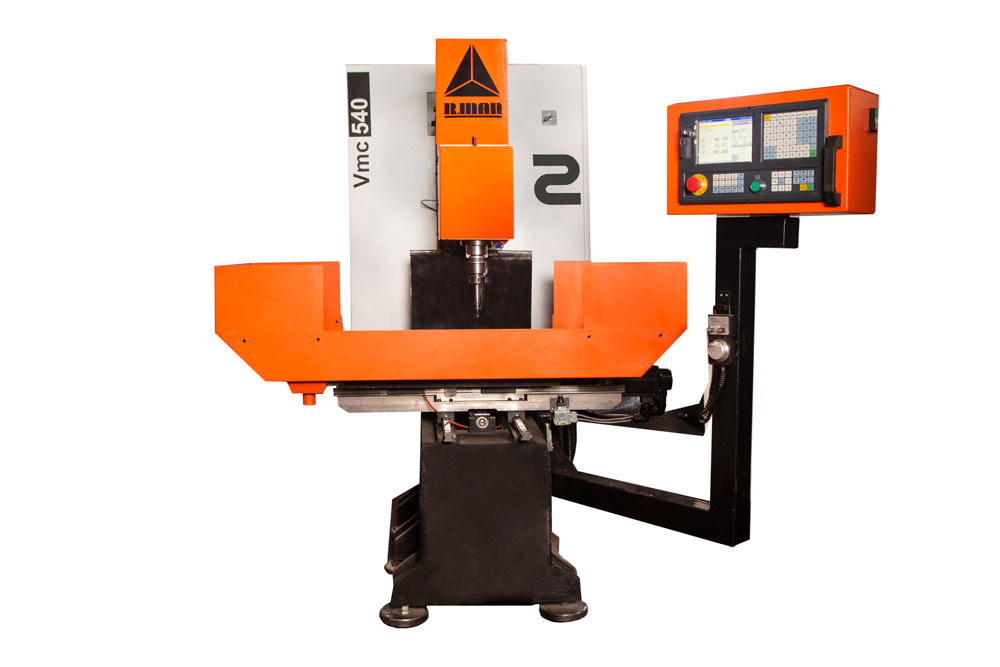 R-Man2
Movement course of axes:  X500 Y400 Z400mm
---
Controller:  Yohai
---
Servo motor axles:  1.8Kw
---
Servo spindle:  4Kw
---
Spindle:  3000 Rpm
---
Movement system:  linear and ball screw
---
Morse:  BT40
---
Cabin:  Semi
---
Manual tool holder  , manual  lubrication
01
Production of the body of the device
02
Production of machine parts
03
Body color and preparation